©a.lamoureux
Port Navalo Entrée du Golfe
Balade (sans escale)
Duration : 1h00
Pets welcome
La Passante / La Voyageuse
Balade sur le Golfe du Morbihan au départ de Port Navalo.
Au Passeur des Îles, nous utilisons les anciennes voied maritimes pour effectuer nos liaisons entre nos ports de départ et nos destinations.
A l'origine, cette balade était uniquement une traversée vers Larmor Baden. Puis nous l'avons ouverte pour une balade à la découverte du Golfe du Morbihan pour toute la famille, de 0 à 115 ans.
This crossing is regularly full, we strongly advise you to book in advance.
Quick, a ticket!
April, May, June & September
Wednesday only
Port Navalo 09:30 - 17:30
From July 1 to September 1
Every day except wednesday and saturday
Port Navalo 14:30 - 16:30 - 17:30
At Le Passeur des Îles, we adapt the size of our fleet and the frequency of crossings according to the season and the number of people on the Gulf of Morbihan. This is why the timetables may be different from one period to another on the same journey. We offer additional crossings from time to time, do not hesitate to consult the site regularly.
I book my Port Navalo - Entrée du Golfe
Select a date below to book this crossing
Aller simple
Aller / retour
Available
Complete
Booking is recommended
Date selected
No date selected
Choose the date of your crossing on the calendar
Fares for the cruise Port Navalo - Entrée du Golfe
Cruise tickets
Round trip
Itinerary of the cruise Port Navalo - Entrée du Golfe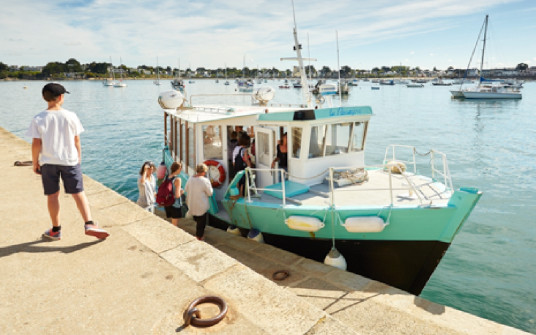 Pier : Port Navalo
Rue du Général de Gaulle
56640 Arzon
Itinerary