© A.Lamoureux – Golfe du Morbihan Vannes tourisme
Port Navalo Larmor Baden
One way or round trip
Duration : 30
Bikes welcome
Pets welcome
La Voyageuse
Aller de Port Navalo à Larmor Baden prend désormais 30 minutes. Chaque mercredi en avril, mai, juin et septembre ainsi que tous les jours sauf les mercredis et samedis en juillet & août, découvrez Larmor Baden et ses environs.
Après être passé entre Gavrinis et son site mégalithique et, Er Lannic, et son enceinte de menhir, vous arriverez à la cale de Penn Lannic, cale de Larmor Baden
A pied, faites le tour de l'île Berder. Attention, celle-ci se visite uniquement par marée basse.
Un peu plus loin vers Locmiquel, la plage des Sept Îles vous attend pour une baignade ou un pique nique.
Attention, quoi qu'il arrive, le courant sera toujours plus fort que vous.
À vélo, découvrez Baden et le Bono, situé à environ 9 kilomètres.
Pour les plus courageux, vous pouvez faire la boucle d'une trentaine de kilomètres entre Larmor Baden et Locmariaquer, afin de reprendre le Passeur des Îles pour rentrer sur Port Navalo.

Les allers/retours sont uniquement valable sur une seule et même journée.
This crossing is regularly full, we strongly advise you to book in advance.
Quick, a ticket!
April, May, June & September
Wednesday only
Port Navalo 09:30 - 15:00 - 17:30
Larmor Baden 10:00 - 12:30 - 18:00
From July 1 to September 1
Every day except wednesday and saturday
Port Navalo 10:45 - 14:30 - 16:30 - 17:30
Larmor Baden 10:15 - 15:00 - 17:00 - 18:00
At Le Passeur des Îles, we adapt the size of our fleet and the frequency of crossings according to the season and the number of people on the Gulf of Morbihan. This is why the timetables may be different from one period to another on the same journey. We offer additional crossings from time to time, do not hesitate to consult the site regularly.
I book my Port Navalo - Larmor Baden
Select a date below to book this crossing
Aller simple
Aller / retour
Available
Complete
Booking is recommended
Date selected
No date selected
Choose the date of your crossing on the calendar
Fares for the crossing Port Navalo - Larmor Baden
Crossing tickets
Round trip
One way
-12 years old
€6.00
€4.00
Itinerary of the crossing Port Navalo - Larmor Baden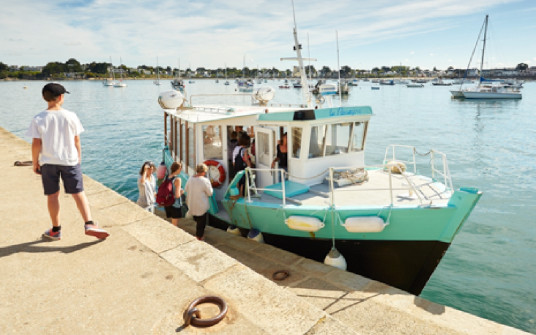 Pier : Port Navalo
Rue du Général de Gaulle
56640 Arzon
Itinerary
Infos pratiques sur la traversée Port Navalo - Larmor Baden
La traversée se fait à bord de la Passante en avril, mai, juin & septembre et à bord de la voyageuse durant la période estivale. Les chiens sont les bienvenus à bord tenus en laisse.
Pour les personnes voulant visiter le site mégalithique de Gavrinis au départ de Larmor Baden, pensez à réserver vos places à l'avance sur le site du cairn de Gavrinis.
Le Passeur des Îles proposent une liaison directe vers Gavrinis avec une visite guidée du cairn au départ de Port Navalo toute la saison et au départ de Locmariaquer en juillet & août. Nous vous conseillons de réserver à l'avance vos billets.