© A.Lamoureux – Golfe du Morbihan Vannes tourisme
Port Navalo Kerners
One way
Duration : 30 minutes
Bikes welcome
Pets welcome
La Passagère
Par la mer, la Passagère navigue le long des côtes de Port Navalo en remontant vers la pointe de Bilgroix, Er Lannic (qui abrite deux enceintes mégalithiques semi circulaires) , l'Île de la Jument ( et son courant éponyme), Hent Tenn et la pointe de Kerners.
Débarquez sur la cale du Bilouris à Kerners. Le temps d'un café au bar de la cale et la randonnée sur le GR 34 peut commencer.
Par la terre, le GR 34 suit la pointe de Kerners, la pointe de la Palisse, la pointe de Penbert , la pointe de Bilgroix et l'anse de Port Navalo. Cette randonnée d'une distance d'environ 8 kilomètres traverse les sentiers côtiers et ses paysages changeant au fil du temps et de la saison.
This crossing is regularly full, we strongly advise you to book in advance.
Quick, a ticket!
April, May, June & September (excluding Gulf week)
Every day
Port Navalo 09:45
At Le Passeur des Îles, we adapt the size of our fleet and the frequency of crossings according to the season and the number of people on the Gulf of Morbihan. This is why the timetables may be different from one period to another on the same journey. We offer additional crossings from time to time, do not hesitate to consult the site regularly.
I book my Port Navalo - Kerners
Select a date below to book this crossing
Aller simple
Aller / retour
Available
Complete
Booking is recommended
Date selected
No date selected
Choose the date of your crossing on the calendar
Fares for the crossing Port Navalo - Kerners
Itinerary of the crossing Port Navalo - Kerners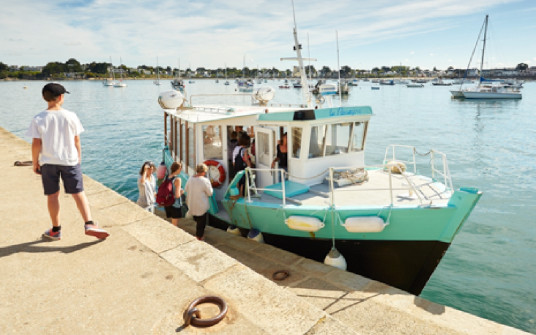 Pier : Port Navalo
Rue du Général de Gaulle
56640 Arzon
Itinerary
Infos pratiques sur la traversée Port Navalo - Kerners