© A.Lamoureux – Golfe du Morbihan Vannes tourisme
Port Navalo Saint Goustan
Cruise (with stopover)
Duration : 4h00
Bikes welcome
Pets welcome
La Passante
La rivière d'Auray : promenade en bateau sur une autre facette du Golfe du Morbihan
Elle se nomme Ria du Loch (ou Aber) avant de devenir la rivière d'Auray, l'une des trois principales rivières du Golfe du Morbihan. La rivière d'Auray va vous surprendre avec son camaïeu de bleu et de vert. Remonter la rivière d'Auray, c'est un peu comme remonter le temps et partir à la rencontre d'un patrimoine historique et naturel remarquable.
A tribord, vue sur les Îles du Petit Veïzit, du Grand Veïzit, des Sept Îles. A partir de la pointe du Blair, la croisière suit les rives de Baden et de la baie de Kerdréan.
A babord, l'entrée du Golfe du Morbihan, la cale du Guilvin, la Passante longe les rives de Locmariaquer et de Crach.
A la pointe du Vide-Bouteilles, se jette la rivière du Bono. La croisière suit la pointe du Plessis avec une belle vue du domaine. Passé le pont de Kerplouz, le port de Saint Goustan commence à apparaître.
Saint Goustan, l'ancien port de pêche et de commerce d'Auray fut le 3ème port breton aux 16e et 17e siècles.
Le port tire son nom de Saint Goustan, patron des marins et des pêcheurs.
Ses quais du 15ème siècle, ses ruines du château fort, son pont du 13ème siècle et ses demeures à pans de bois...l'escale à Saint Goustan vaut le détour.
Flâner au bord de la rivière, se rafraîchir à l'ombre d'une terrasse, musarder dans les ruelles escarpées vers le centre ville d'Auray, visiter la galerie "La Réserve" exposant les toiles de Gildas Flahault. Saint Goustan offre une facette incontournable du Golfe du Morbihan.

This crossing is regularly full, we strongly advise you to book in advance.
Quick, a ticket!
April to September (stopover St Goustan)
Friday only
Port Navalo 14:00
At Le Passeur des Îles, we adapt the size of our fleet and the frequency of crossings according to the season and the number of people on the Gulf of Morbihan. This is why the timetables may be different from one period to another on the same journey. We offer additional crossings from time to time, do not hesitate to consult the site regularly.
I book my Port Navalo - Saint Goustan
Select a date below to book this crossing
Aller simple
Aller / retour
Available
Complete
Booking is recommended
Date selected
No date selected
Choose the date of your crossing on the calendar
Fares for the cruise Port Navalo - Saint Goustan
Cruise tickets
Round trip
Itinerary of the cruise Port Navalo - Saint Goustan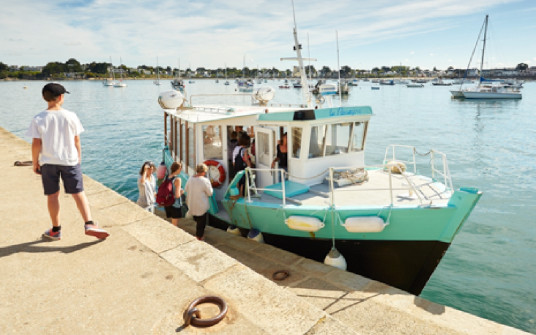 Pier : Port Navalo
Rue du Général de Gaulle
56640 Arzon
Itinerary
Infos pratiques sur la croisière Port Navalo - Saint Goustan
La croisière commentée à bord de la Passante, l'un de nos bateaux rétro en bois, reconnaissable avec sa cheminée rouge. Cette traversée est uniquement disponible en aller retour et en aller simple. Les vélos et remorques sont les bienvenus à bord.
A l'aller, le capitaine vous conte l'histoire de la rivière et de la navigation dans le Golfe. Au retour, il vous propose une initiation à la lecture des cartes marines.
La billetterie de Port Navalo est ouverte d'avril à fin septembre tous les jours entre 08h30 et 12h00, et entre 13h30 et 18h00. (paiement accepté : CB, espèce, chèque, chèque vacances)
Dates des escales à Saint-Goustan

| | |
| --- | --- |
| Avril | |
| Mai | 5 |
| Juin | 2 - 16 - 30 |
| Juillet | 14 - 28 |
| Août | 11 |
| Septembre | 15 - 29 |