© A.Lamoureux – Golfe du Morbihan Vannes tourisme
Locmariaquer Île d'Arz
Aller retour
Duration : A: 1h00 / R:1h30
Bikes welcome
Pets welcome
La Passante
Arz, l'île sauvage du Golfe du Morbihan
La balade en bateau de Locmariaquer à l'île d'Arz mérite à elle seule le détour .
Au départ de la cale du Guilvin à Locmariaquer, la Passagère accostera dans un premier temps à Port Navalo pour que les passagers de la presqu'île de Rhuys puissent embarquer à bord.
Durant la traversée d'une heure, vous pourrez admirer les splendeurs des rives du Golfe du Morbihan.
L'Île Longue, Gavrinis, l'Île de la jument, l'Île de Berder et l'Île aux Moines font partie des îles que vous allez pouvoir observer le temps de la navigation le long du Golfe du Morbihan.
Arrivés à la cale de Béluré, le charme se prolonge. L'île d'Arz offre un espace naturel idéal pour une randonnée entre terre et mer. Deux sentiers de randonnée sont balisés : l'un de 17 km, l'autre de 10 km.
Surnommée l'île des Capitaines, les anciennes demeures témoignent d'un passé maritime qui fait la fierté des Ildarais. En hommage à ces marins au long cours, un jardin exotique a vu le jour : le Jardin des Capitaines.
Sur l'île, il est possible de visiter l'église Saint-Sauveur, la chapelle Notre-Dame-des-Sept-Douleurs, le moulin à marée du Nioul et le dolmen de Pen-Hap.
Jusqu'au 30 octobre 2023, vous pourrez admirer les œuvres de Daniel Buren au détour des routes et des chemins.
Les allers/retours sont uniquement valable sur une seule et même journée.
This crossing is regularly full, we strongly advise you to book in advance.
Quick, a ticket!
From July 1 to September 1
Every day except friday and saturday
Locmariaquer 09:20
Île d'Arz 16:40
At Le Passeur des Îles, we adapt the size of our fleet and the frequency of crossings according to the season and the number of people on the Gulf of Morbihan. This is why the timetables may be different from one period to another on the same journey. We offer additional crossings from time to time, do not hesitate to consult the site regularly.
I book my Locmariaquer - Île d'Arz
Select a date below to book this crossing
Aller simple
Aller / retour
Available
Complete
Booking is recommended
Date selected
No date selected
Choose the date of your crossing on the calendar
Fares for the crossing Locmariaquer - Île d'Arz
Crossing tickets
Round trip
Itinerary of the crossing Locmariaquer - Île d'Arz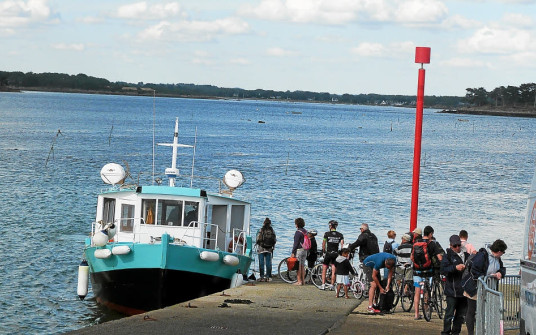 Pier : Locmariaquer
21 Rue du Guilvin
56740 Locmariaquer
Itinerary
Infos pratiques sur la traversée Locmariaquer - Île d'Arz
La traversée régulière Locmariaquer Île d'Arz à bord de la Passante, l'un de nos bateaux rétro en bois, emblématique de notre flotte. Cette traversée est uniquement disponible en aller/retour. Les vélos et remorques sont les bienvenus à bord.
Billetteries
Bar du Golfe au port du Guilvin
Offices de tourisme :
- Offices de tourisme Baie de Quiberon ( Locmariaquer, Quiberon, la Trinité sur Mer, Erdeven, Plouharnel, Auray, Belz, Saint Pierre Quiberon, Etel)
- Office de tourisme de Carnac
Nous vous conseillons fortement de réserver vos billets à l'avance.